I tried yesterday to write a review of
Ender's Game
, and I found myself absolutely incoherent. I got about halfway through and realized I sounded like a blathering idiot. I'm not feeling a whole lot more eloquent today. Maybe tomorrow? Not sure.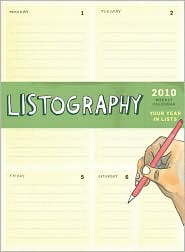 In the meantime, in order to keep my few but beloved readers entertained, I thought I'd share another part of my life. I am an absolute list addict. I make lists all the time, of everything. It makes me feel like I'm in control, I think. Which makes me a control freak. Anyway, I have a few other friends who also are list addicts, and I found this 2010 planner called Listography that I thought would make a perfect Christmas gift for some of them. And then I couldn't resist getting one for myself, too. Basically, this is a weekly planner that has a prompt to make a list for each week in the year. And I've enjoyed making the lists so far - some of them are dumb, and some are fun, but I like making them nonetheless.
I don't want to share all of the lists with you, because some of them will be extremely boring for you (i.e., names of children I know - YAWN for you), but I thought I'd share some of the others. Maybe this will break my writer's block throughout the year if a good list comes up. So! Without further adieu, a few lists from my Listography planner.
List Your Goals for the Coming Year (28 Dec 2009 to 3 Jan 2010)
Organize the house
Buy a new mattress
Keep losing weight
Get better control of finances
Send real birthday cards
Get a working printer (for home)
Earn Copyediting certificate from UCSD
Reduce to-read pile
List Your Favorite Dance Songs (22 Jan 2010 to 17 Jan 2010)
"Dancing Queen" - ABBA
"Tainted Love" - Soft Cell
"You'll Never Be Famous" - The Clutters
"I Saw Her Standing There" - The Beatles
"Hey Ya!" - Outkast
"Should I Stay or Should I Go" - The Clash
"Graycoated Morning" - David and the Citizens
"Gay Bar" - Electric City
"Hate to Say I Told You" - The Hives
"Purple Haze" - Jimi Hendrix
"Mr. Brightside" - The Killers
"Lady Marmalade" - Christina Aguilera, Pink, Mya and Lil' Kim
"R-E-S-P-E-C-T" - Aretha Franklin
"You Really Got Me Going" - The Kinks
"Deceptacon" - Le Tigre
"I Will Survive" - Gloria Gaynor
"Crazy" - Gnarls Barkley
"Don't Stop 'Til You Get Enough" - Michael Jackson
"Son of a Gun" - Nirvana
"Oh My Golly" - The Pixies
"Vertigo" - U2
"Blitzkrieg Bop" - The Ramones
"You Keep Me Hangin' On" - The Supremes
"Blister in the Sun" - Violent Femmes
"Technology" - The Whigs
"Hotel Yorba" - The White Stripes
"We Got the Beat" - The Go-Gos
"Nature of the Experiment" - Tokyo Police Club
"American Girl" - Tom Petty and the Heartbreakers
"Land of 1000 Dances" - Wilson Pickett
List Your Heroes (18 Jan 2010 to 24 Jan 2010)
My mom: even though she doesn't believe much in herself, she raised me to believe in myself and to think that I can achieve anything if I set my mind to it - she set me up for my greatest successes, and picked me up from my biggest failures
Chet (one of my grandfathers): the sweetest, kindest, smartest, happiest person I have ever known
Jimmie Holland: the founding grandmother of the field of psychosocial oncology and someone I have been blessed to work with for the past six years; a brilliant mind, an unfailing work ethic, and a kind heart, but who won't take no for an answer
Abraham Lincoln: another kind heart, albeit one that had to lead his country to war against itself, he did the worst imaginable task for a President who loved his country with grace, intelligence and eloquence
Albert Einstein: eccentric, brilliant, funny, and not afraid to admit when he was wrong
Gandhi: a man passionate about what was right and fair in the world, but who refused to resort to violence even when it would have saved him severe injury, he turned nonviolence into an action that got more attention than violence
Martin Luther King, Jr: like a combination of Lincoln and Gandhi, MLK used his faith, nonviolence, and the strength of his convictions to move an entire nation to action to attack one of our country's most horrible injustices
Jane Goodall: if you have ever heard her speak, you know that Dr. Goodall is poised and passionate simultaneously; she has contributed significantly to our knowledge and understanding of primates, ourselves, our environment, and our relationship with the other living things of this world
Nawal El Saadawi: a woman of uncommon bravery, she has fought with her writing and her teaching for women's rights and women's modern healthcare in Middle Eastern countries
Frederick Douglass: he educated himself and used his education to better the plight of black slaves in America to the best of his ability, as well as all people; he firmly fought for equal rights of women, African Americans, Native Americans, immigrants - equal rights for all people